---
The Canonical General Assembly which should have been held the summer of 2021,
has been postponed to the summer of 2022, due to the Corona Virus pandemic.
---
A Manitoba Special Act Corporation was created in August 2018, evidencing the
incorporation of
The Missionary Oblate Sisters of St Boniface Inc.
---
Congratulations to the 2019 Jubilarians !
*
*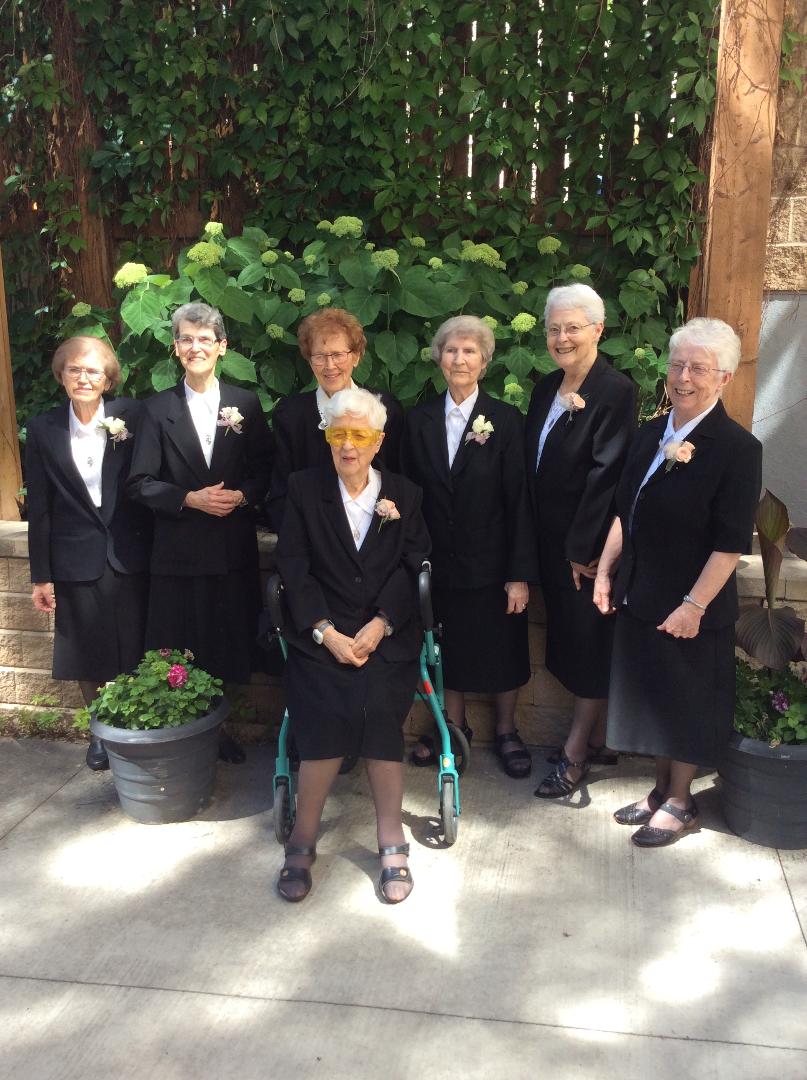 Back row: Pierrette Boucher 60th, Pauline Boucher 60th, Marie-Anna Ruest 75th,
Brigitte Bissonnette 60th, Léa Archambault 60th, Yvette Bernardin 60th

Front row : Thérèse Croteau 70th
---
Associates Renewal Day of Promises
May 4th, 2019
---
Haiti Project 2018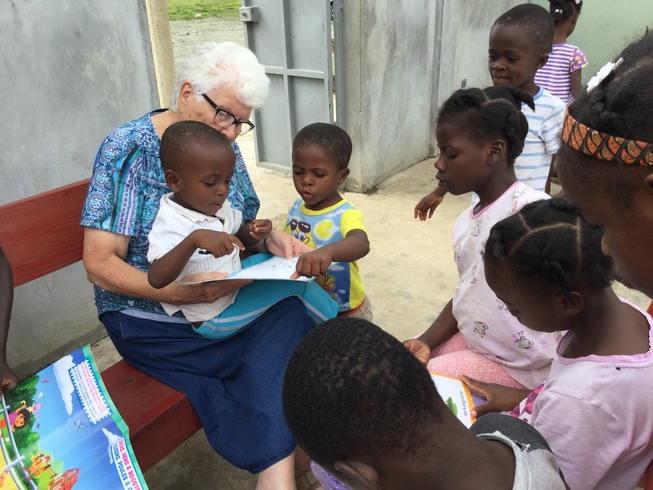 Louise Dansereau and I went back to Haiti to work at the new orphanage housing 39 orphans. During the week we helped the chidren with their homework and recitation of lessons. On week-ends we had more time to play games, do puzzles, play with plasticine, etc. Again, it was our loving presence, our attentive listening to their stories and our open arms to their way of life that brought them happiness,peace and joy.
Louise and I will continue our missionnary work in Haiti in
January 2019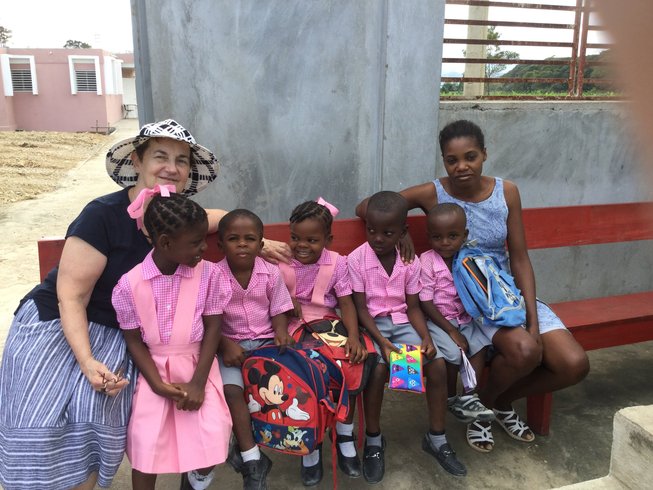 Haiti Project 2015
by Sr. Berthe O'Reilly, m.o.
January 2015, Sister Corinne Chartier, S.N.J.M. and myself left for Haiti to do missionary work for Father André Sylvestre. For 14 weeks,we worked at a school in Robillard where Fathe André was parish priest and in charge of the school.The school had over 300 students from K to grade 6. Some teachers did not have any training for teaching. We would spend the day listening and supporting all the teachers. At the request of teachers we did some teaching. We would meet the teachers regularly to discuss different ways of teaching and doing discipline. The staff welcomed our recommendations and hand-on materials with open arms. At the end of our mission they thanked us with dances, songs and words of appreciation like the Haitien people can do. We were invited to return to their school.
The last ten days were spent at the orphanage of Father André in Cap-Haitien. We were met by 29 orphans - 17 girls and 12 boys aged 3 to 12 years old. During these few days we helped the children with their homework and recitation of lessons. Between their homework, meals and shower we would play with them. We were restrained in space, games and toys. Our loving presence and our attentive listening were worth more than a million like Father André would tell us.
Our 2018 Jubilarians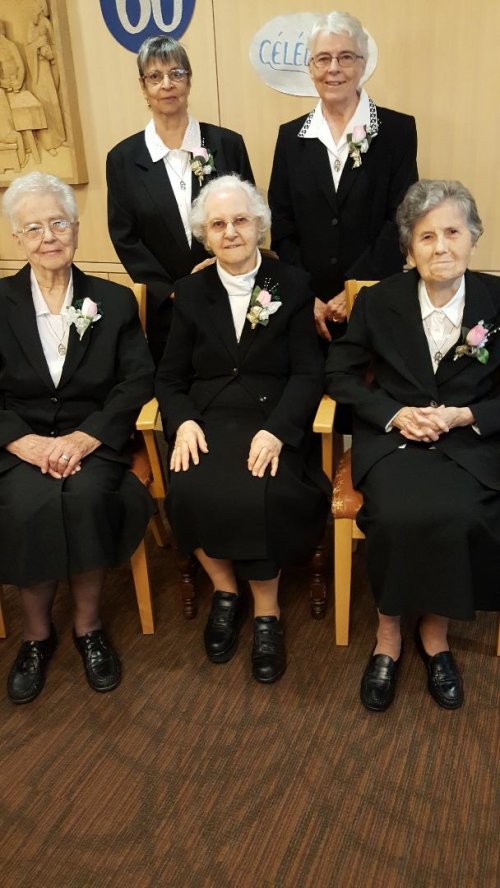 From left to right: S. Marie-Anne Fillion, 75th ; standing, S. Lucille Bonin, 60th
S. Agnes Jolicoeur, 75th ; standing, S. Olive Halpin, 60th ; S. Odile Vuignier, 75th
________________________________
General Assembly 2017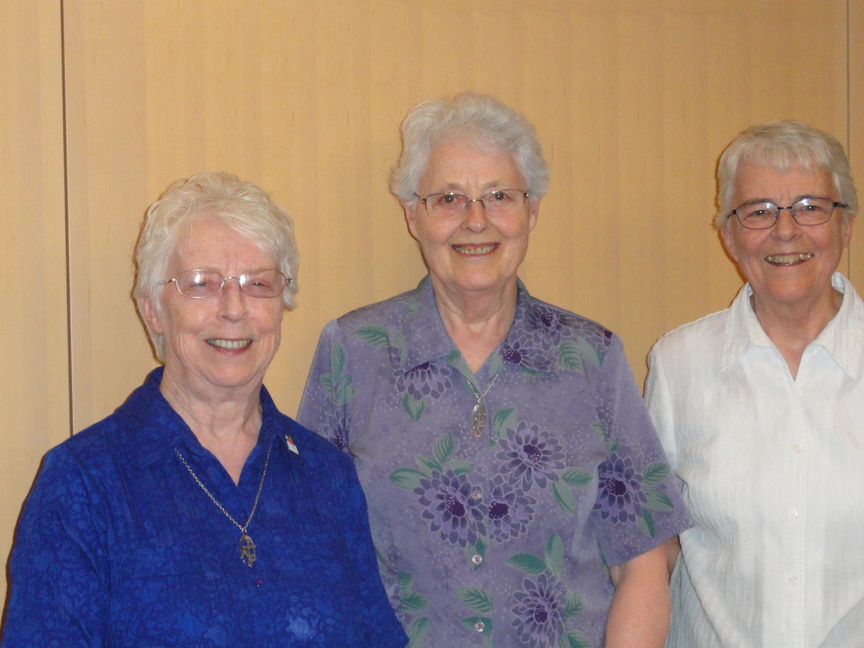 New General Leadership Team
From left to right: Sr. Yvette Bernardin, General Assistant, Sr. Léa Archambault,
General Superior, Sr. Olive Halpin, General secretary and Councillor.
________________________________________________________________________
2017 Jubilarians
2017
From left to right top row:
SS.Cécile Perrin, Pierrette Caron, Lumina Chartrand, Louisette Bérubé,
Cécile Fontaine and Angeline Courcelles.
Bottom row:
SS. Yvonne Fillion and Jeannette St. Vincent.
---
2016 Jubilarians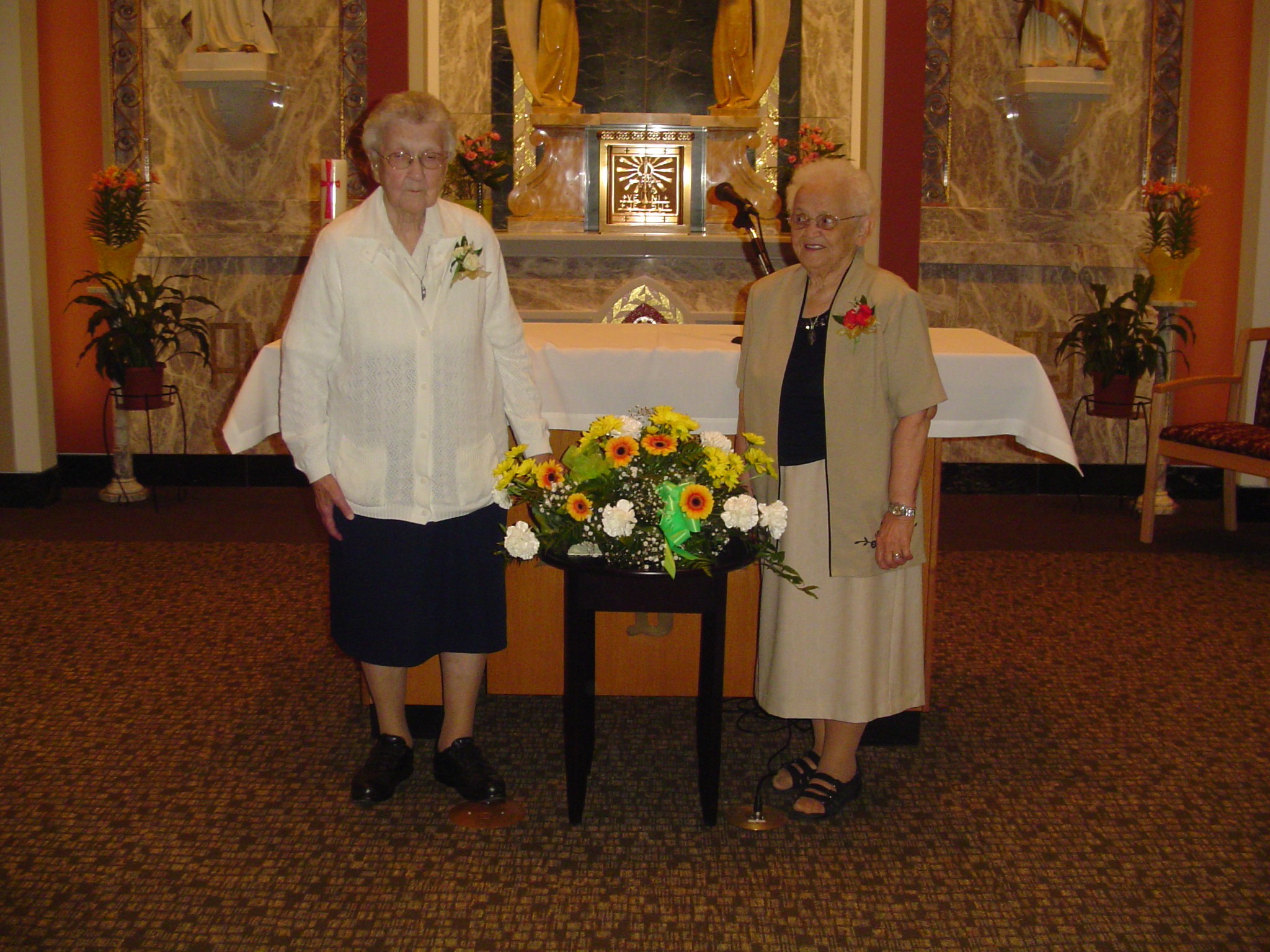 Sr. Bernadette Desorcy Sr. Marguerite Hamel
70th Anniversay 60th Anniversary
---
2015 Jubilarians
60th anniversary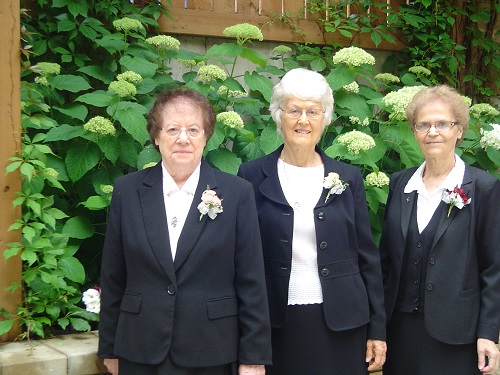 Sr. Marie-Rose Cadorette, Sr. Cécile Fortier, Sr. Suzanne Boucher
---
Private celebration
2015 Jubilarians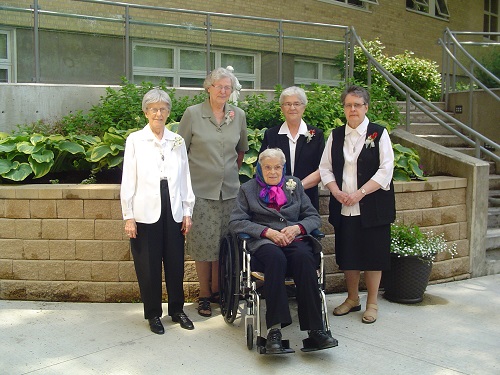 Dora Tetreault, 70th, Solanges Bourgeois, 60th, Hélène Roy, 60th, Marie Beaupré, 60th
Aline Bertrand, 75th
---
The Missionary Oblate Sisters 20th General Chapter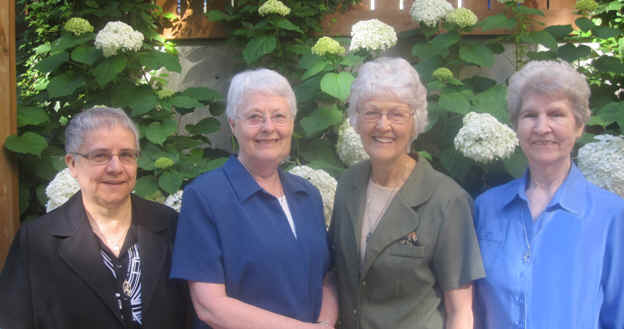 The New Leadership Team
(from left to right)
Emma Bérard, 3rd councillor, Léa Archambault, 1st councillor,
Cécile fortier, General Superior, Brigitte Bissonnette, 2nd councillor
---
Preparing for our next General Chapter (July 8 - 18, 2013)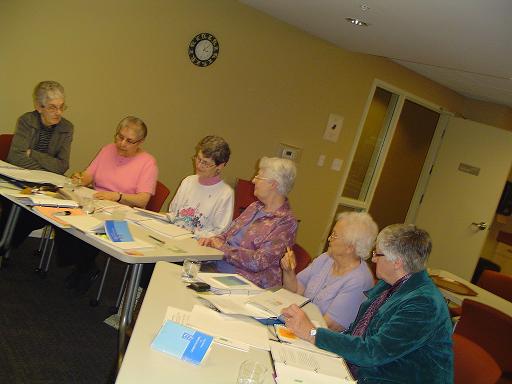 Members of the pre-Chapter Commission
From left to right
Denise Kyup, R.N.D.M. (animator), Emma Berard, m.o., Pauline Boucher, m.o., Léa Archambault, m.o.
Marguerite Hamel, m.o., Jeannine Vermette, S.N.J.M. (co-animator)
Chapter Theme
«Go forth in faith towards the future»
---