Vocations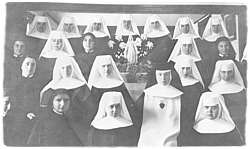 At the turn of the century, Archbishop Langevin devoted a great deal of time and energy to foster vocations to the priesthood and religious life. Parishes had to be set up for the increasingly growing immigrant population of his vast diocese. These people were of many different ethnical origins, French Canadians from Quebec and from the United States, others from Germany, Poland, and the Ukraine, to mention just a few.
Since more religious Sisters were needed to teach the children in Manitoba schools, in 1904 Archbishop Langevin founded the Congregation of the Missionary Oblate's of the Sacred Heart and Mary Immaculate, the first Congregation of religious women founded in Western Canada.
The Oblate Vocation
Consecration to religious life flows from a person's baptism. For the Oblate Sister, this total gift of one's heart and self to God is lived out in her mission of serving the poor according to the spirit of the Congregation. In this way the Oblate Sisters strive to live more fully their Christian life.
Discerning one's vocation is the first step towards knowing how to best answer God's call. If, on hearing the call to religious life, a woman finds within herself a resonance with the charism of the Missionary Oblate Congregation as expressed in its members, it may well be that this is the Congregation she is called to belong to.
The charism statement of the Congregation can be summarized as follows: We the Missionary Oblate Sisters conscious of the suffering world, are called to a change of heart and to respond by offering ourselves with Christ to promote peace, justice and unity.